DYNTEK Angle Bead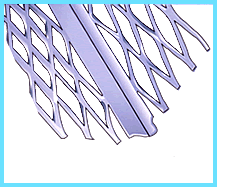 Dyntek Angle Bead (also known as Corner Bead) is used in plasterwork to form a straight edge around outward facing corner.
DYNTEK Angle Bead is manufactured from BS 2989: 1982 conforming pre- galvanished steel. Per BS 6452: Part 1: 1984 specifications, it has expanded mesh wings on both angled sides in addition to a round nosing at the apex. Stainless steel material to BS 1449: Part 2: 1983 Grade 304S15 specifications is also available on request.
Benefits
Enhances Productivity
DYNTEK Angle Bead is easy to install and provides efficiently plumbed straightness for plasterwork.
Better Quality Finishing
DYNTEK Angle Bead provides better quality finishing by reinforcing corner against cracks and chips.