Lintel
DYNTEK CHANNEL LINTELS are horizontal members designed to carry brick/blockwork across door and window openings. Manufactured using high yield steel, its surface is perforated, then formed into channel section and finally rust protected.
Available to cater up to wall widths of 200 mm and BS 5977: Part2: 1983.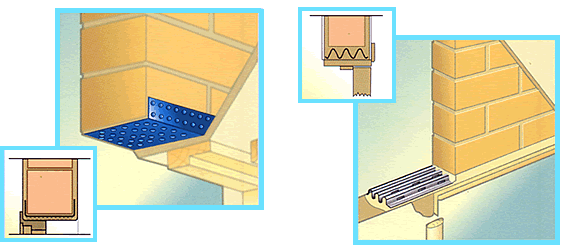 Benefits
Time Savings
Construction with wet brick/blockwork can begin immediately after installing the lintel.
Cost Effectiveness
Saves on building cost as DYNTEK lintels are cheaper than traditional lintels.
Ease of Handling
Lintels are lightweight and can be lifted and installed by a single person.
Efficient plaster key
Makes plastering easy and provides a stronger bond.
Available In Various Sizes
A range of sizes makes it easy to order and install, to suit different requirements.
DYNTEK CORRUGATED LINTELS are designed for internal use only. Using galvanised steel conforming to BS 2989: 1982 its surface is perforated and then formed into corrugated section to suit wall widths 75mm and 100mm.