DYNTEK Micromesh Stop Bead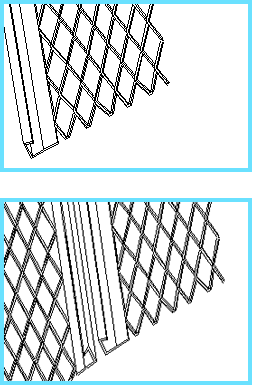 DYNTEK Micromesh Stop Bead (also known as Micromesh Casing Bead) is used for dry lining and skim coat applications of 3mm to 6mm coating thickness at plaster end of openings and abutments of walls/ceilings.

When used in a pair (back to back) with a strip of temporary timber batten/plastic strip in between, it forms a Control Joint or Expansion Joint. After plastering, the timber batten/plastic strip is removed for the gap to be either filled with e.g. silicon or left unfilled to create a groove line.
DYNTEK Micromesh Stop Bead is manufactured from BS 2989: 1982 conforming pre-galvanised steel. In accordance to BS 6452: Part 1: 1984 it has expanded mesh wing on one side and a metal flange on the other, sized to match the plaster thickness. Stainless steel material to BS 1449: Part 2: 1983 Grade 304S15 specifications is also available on request.
Benefits
Better Quality Finishing
DYNTEK Micromesh Stop Bead provides cleaner finishing and quality by detail for skim coat plastering accuracy. It also hides the crackline between the plaster and the adjacent material with a specially designed bend at the top of the flange.