Dyntek CoilMesh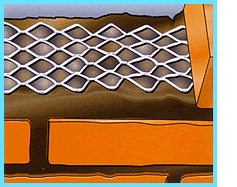 DYNTEK CoilMesh is used for the reinforcement of brickworks and blockworks by embedding in mortar joint between courses of bricks or blocks. It can also be used as plaster reinforcement over conduits and services.
DYNTEK CoilMeshes are manufactured from BS 2989; 1982 conforming pre-galvanised steel into expanded steel mesh. In addition, stainless steel material conforming to BS 1449: Part 2: 1983 Grade 304S15 specifications is also available on request.
Benefits
Enhanced Durability of Walls
DYNTEK Coilmesh provides extra strength to walls, footings and parapets, with additional resistance to stresses, vibration and temperature changes.